New Flavour: Peanut Butta
Not all heroes wear capes. One such life saver is the peanut butter, which has come to the rescue of many hungry souls. Well-loved and easy to prepare, this convenient food solution is a favourite filling for many healthy snacks preferred by the young and not so young.
Peanut butter is the perfect topping for bread, crackers and is the feature of the internationally renowned peanut and jelly sandwich. For the more adventurous foodie, though, peanut butter is paired with rice, fries and even used as a dip for vegetables and fruits.
Five things that peanut butter goes surprisingly well with are:
Apples
Oatmeal
Bananas
Hot dogs
Bacon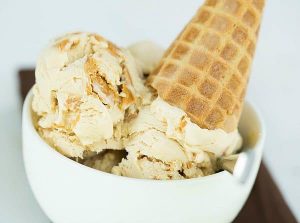 Like most butters made of nuts, peanut butter is high in fat and calories, but is a great source of protein, fiber, vitamins and minerals.
There are about 190 calories and 16 grams of fat in every 2 tablespoons. But before you begin to count calories, be mindful of the good news that there is a lot of nutrition from this 190-calorie investment.
Kremi makes it easy for you to enjoy this nutritious food item in its peanut butta-flavoured ice cream.
Try it today!